It's no secret that the craft beer industry is booming — just between 2010 and 2017, the volume of craft beer has grown by over 150% across America. North Carolina, as you may know, has been one of the states to help catapult this growth by reaching 257 breweries in 2017, up from just 59 breweries in 2011. Charlotte, of course, is no exception to this craft-licious boom. Since we opened our doors in 2011, Charlotte-area breweries have grown from three to 47 this year (with several more on the way). While craft beer continues to grow at an incredible rate (taking market share from macro beer), the overall American beer market is completely flat.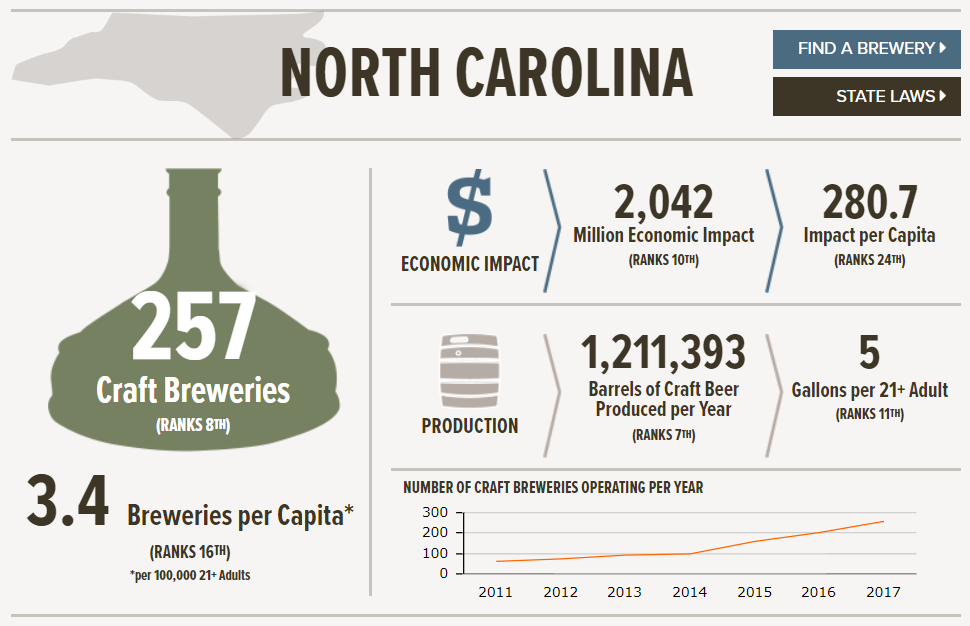 It didn't take long for Anheuser-Busch InBev (hereafter referred to as The Big Guy), who by the way owns 30% of the entire global market share of beer, to recognize that people are drawn to the locality and uniqueness of craft breweries, so they started getting in on the action (in the hopes of rising above their flat market). Unfortunately for independent craft breweries, like us (and all of those who support and love our industry), instead of disclosing that the craft brands they purchase are owned by them, they continue selling the "brands nationally like they're still local, craft brews — but the original brand is not craft after acquisition." Since The Big Guy can afford to drown out all the little hometown, independent breweries with their marketing dollars, they're unfairly capturing a part of the market who is simply uninformed about who actually owns these "craft" brands.
The Big Guy uses a multitude of commercials and other marketing ploys to make you think it's an American company, but the reality is, they're actually headquartered in Belgium and Brazilian owned. Plus, much of their brewing actually occurs in places that are far from local to where the beer is distributed both in America…
And internationally… Argentina, Australia, Belgium, Bolivia, Botswana, Brazil, Canada, Canary Islands, Channel Islands, China, Colombia, Czech Republic, Ecuador, El Salvador, France, Germany, Ghana, Honduras, Hungary, India, Italy, Lesotho, Luxembourg, Mexico, Mozambique, Netherlands, Panama, Peru, Poland, Romania, Russia, Slovakia, South Africa, South Korea, Swaziland, Sweden, Tanzania, Uganda, Ukraine, and United Kingdom.
We want to be sure that you're up-to-speed on who all the stealth "craft" breweries are (from ALL the Big Guys — AB InBev,  Molson Coors/Miller Coors, Heineken and Constellation Brand — not just THE Big Guy), so that you can know exactly where you're spending your dollars, ultimately boosting your local economy and feeling good about what you're supporting:
Owned by AB InBev:
Goose Island Beer Company
Owned by Craft Brew Alliance (AB InBev has 31.6% ownership):
Craft Brew Alliance (AB InBev has 31.6% ownership in CBA):
Appalachian Mountain Brewery

Cisco Brewers

Wyndwood Brewing
Owned by Constellation Brand:
Ballast Point Brewing

Funky Buddha Brewery
Owned by Miller Coors:
Pyramid Brewing Company
Portland Brewing Company
Magic Hat Brewing
Heineken:
Lagunitas

 

Short's Brewing (19% owned by Lagunitas, still technically a craft brand according to Brewer's Association, but wanted to note).
Sapporo:
San Miguel:
Avery Brewing Co. (30% owned by San Miguel)
Founders Brewing Co. (30% owned by San Miguel)
While we wish the buck stopped there, The Big Guy is finding even sneakier, and worse, ways to infiltrate and hurt the independent craft beer industry. Through a recent acquisition of SAB Hop Farms, they have cut off the ability for independent craft breweries to buy South African hops, almost entirely. The Big Guy is also bulldozing forward by acquiring Northern Brewer, one of the largest homebrew supply stores, helping them gain access to information and statistics related to the little guys.
And lastly (for now), they've just made a partial investment in RateBeer.com, one of the world's leading beer review website, meaning they'll have access to craft beer drinkers' habits. Our friends at Dogfish Head expanded on this by saying that "it just doesn't seem right for a brewer of any kind to be in a position to potentially manipulate what consumers are hearing and saying about beers, how they are rated and which ones are receiving extra publicity on what might appear to be a legitimate, 100 percent user-generated platform."
The Charlotte Observer hit the nail on the head concerning the point we'll close with: "Craft beer is a movement, a community of makers and consumers who feel like they're part of something good and shared." It's true, we love this community and want to protect it by ensuring that everyone is informed about The Big Guy's moves. While there's surely no end in sight to what they'll do, we'll keep sharing this message, and sipping on our brews that were made right here in Charlotte, North Carolina, with all the local ingredients we (Queen City residents) could get our hands on!
Drink and support local!  
P.S. Want to do more reading on the subject? We recommend "Barrel-Aged Stout and Selling out Goose Island, Anheusee-Busch, and How Craft Beer Become Big Business" by Josh Noel.